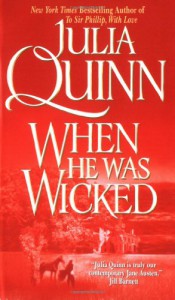 5+ stars
I liked previous books in Bridgertons series but I must say, I have to say that this book is the most amazing ever in this series. Awesome! I loved it so much, I love it still. Oh my God - the story was so intense and heart-wrenching. It's like, it was so sufferable but really, worth it.
Michael Stirling, for his unrequited love, he made it one of the tortured soul guy. He fell in love with a woman for the first time he laid his eyes on her but unfortunately, he couldn't have her, he believed he never would as she were within mere hours married to his cousin. Then, for two years whilst she married to his cousin, he loved her silently, sealed the truth from anyone's knowing and it literally killed me reading that part. It killed me more when he had gone to India to seek for peace and he loved her from afar. Even though he had returned, he loved her still.
Michael, notorious rake he is - so hopelessly in love and romantic. I want a man like him. To be cherished, worshipped and loved.
Francesca might irritating and annoying throughout the book but I tried to be in her shoes. She was trying to move on and she did. She was so afraid she thought she had wounded her the memory of his late husband. She was so confused she didn't know what to do. I cannot say I know how it feels to lose a husband at such a young age but I do believe, it's devastated. I felt really bad for her. Things got heightened when she visited John's grave confessing her feelings she have for Michael.
I wonder why I don't shed a tear.
My best to Michael and Francesca. You guys really are meant for each other.
Highly recommended.